In the realm of corporate culture, it is paramount to value employee benefits and foster a sense of community. As a leading global financial services group that always seeks to redefine excellence, Doo Group sees these values as our core. Throughout our journey, we have been exploring potential opportunities to expand our global footprint. Our determination to break through is not only for our clients, but also our commitment to employee well-being.
In the beginning of the year, Doo Group accomplished a momentous milestone by becoming an Official Online Financial Trading Platform Partner of Manchester United. Our collaboration with the world-class football club illustrates a set of shared values: belief in hard work; importance in trust; and loyalty developed through support for their community.
Doo Group deeply recognizes the importance of appreciation in the workplace and is dedicated to nurturing a positive work environment. The commitment has reached new heights through the past Jockey Club Youth Football Academy Summit held in Hong Kong.
Elevating Employee Benefits Through Partnership Rewards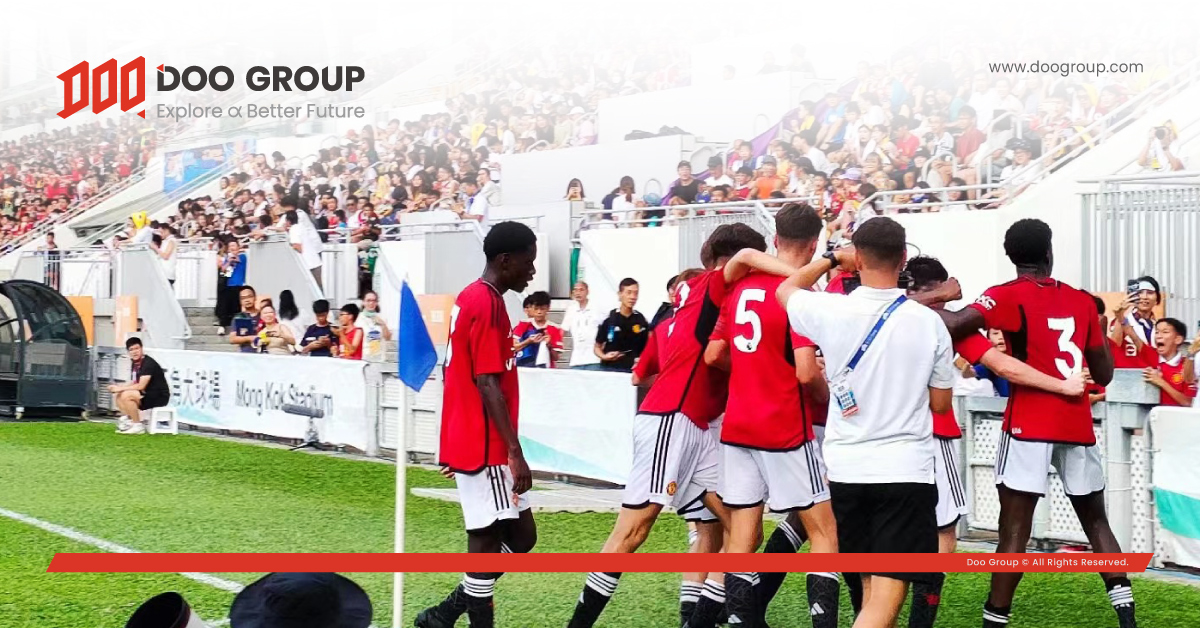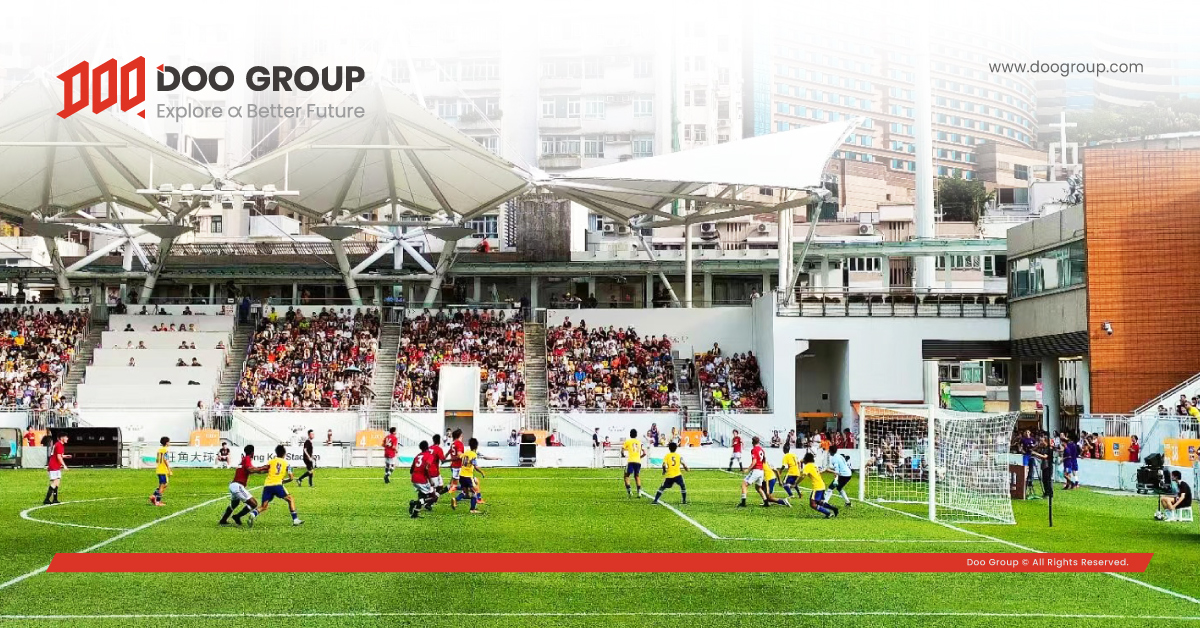 The Jockey Club Football Academy Summit is a sport event hosted by Manchester United and its long-standing partner, the Hong Kong Jockey Club. As part of the summit, Manchester United Academy U16 had a friendly match against the Hong Kong, China U18 Representative Team and the Hong Kong, China Youth Select Team on 9th August and 12th August, at Mong Kok Stadium, Hong Kong.
To show our appreciation to the unwavering dedication of Hong Kong DOOers, we have reserved a total of 60 tickets of the friendlies for them. It was a testament to Doo Group's commitment to creating a workplace where each DOOer feels engaged, included and valued.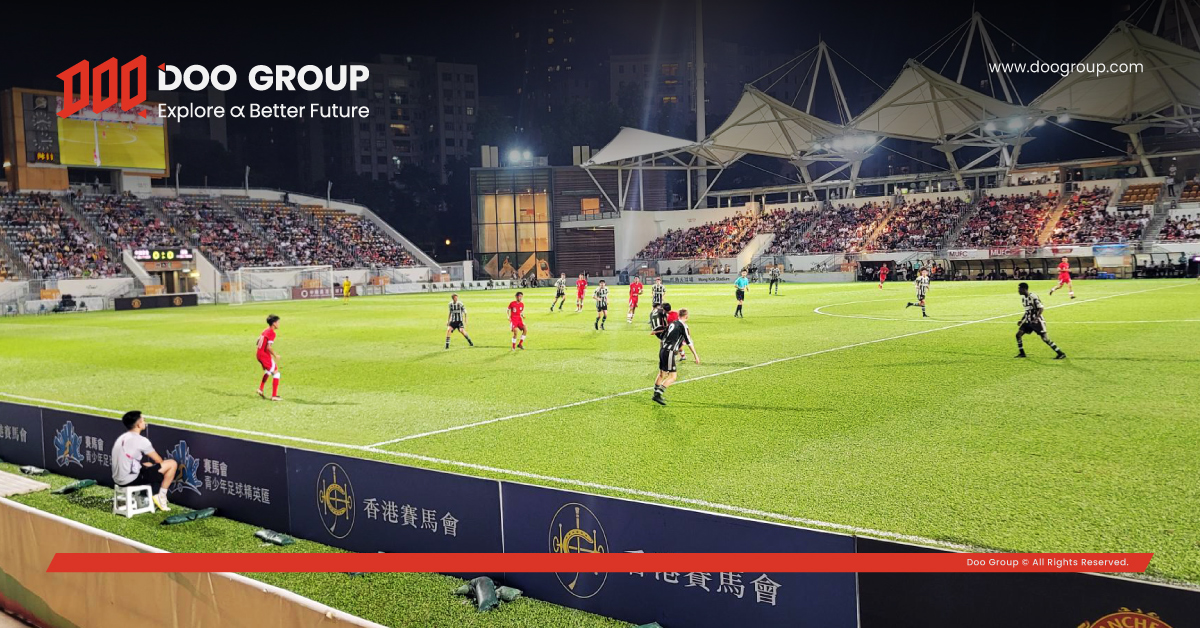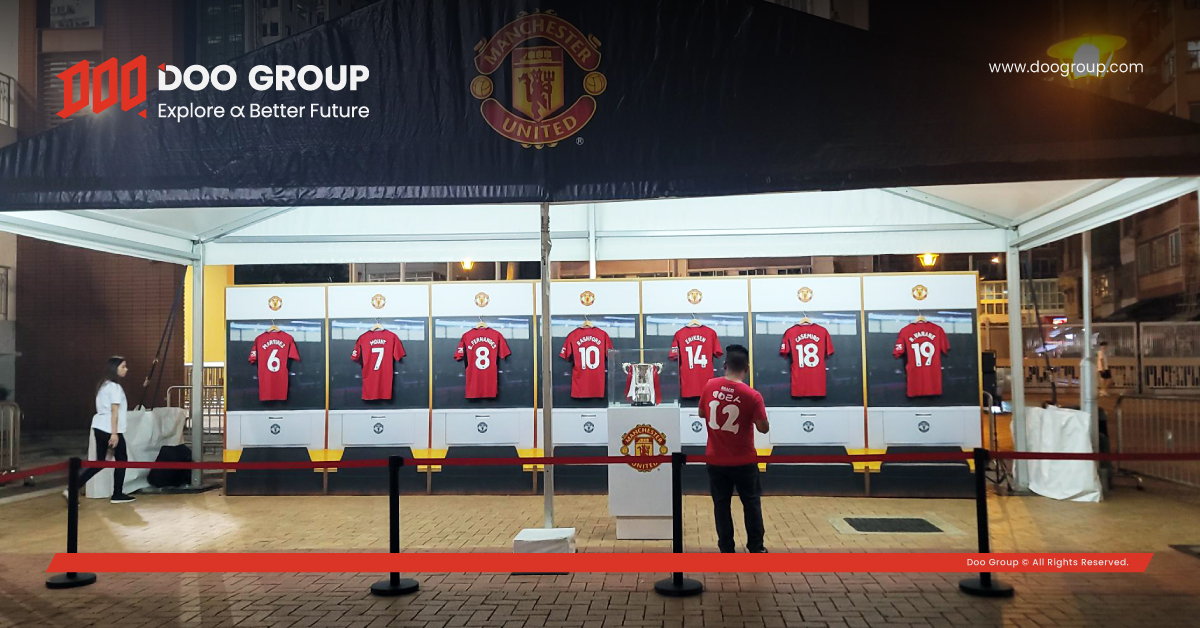 In addition to enjoying the world-class matches played by future stars of Manchester United and Hong Kong teams, Hong Kong DOOers also got the opportunity to meet Manchester United legend players Diego Forlan and Nemanja Vidic, who went to show their supports for the young talents.
One of the thrilling moments of the matches was the showcase of the Carabao Cup trophy held by our partner Manchester United, the current champion of the England's most renowned domestic football competitions, EFL Cup.
While enjoying the exhilarating atmosphere of the matches, DOOers also had the opportunity to relish live performances by local Hong Kong singers, Gareth Tong and Joey Hung. This fusion of football and music brought a new dynamic to the matches.
Forging Stronger Bonds With Shared Values

Through the friendly matches, DOOers witnessed the spirit of sport – hard work, trust and unity, aligning with the fundamental values that unite Doo Group and Manchester United. Our collaboration is far more than a mere business partnership; it's rooted in mutual beliefs that transcend boundaries, inspiring excellence and fostering a sense of belonging and pride.
As Doo Group continues our journey of empowering DOOers, the partnership with Manchester United serves as a guiding light. It illuminates the path toward a future where employee well-being and community support remain at the forefront of our mission. With shared values as compass, our commitment to DOOers and the wider community shines brighter than ever before.
Want in on the action? If you are an individual who is seeking a dynamic and inclusive work environment, come and join the Doo family and shape the future together! Let's create lasting memories that will redefine what success means to you. With us, the possibilities are limitless, and the adventure awaits.
Visit https://career.doo.com/career/ for the latest jobs or send us your resume directly at [email protected]. You can also connect with us physically as we partake in career fairs around the region – follow our social media pages @DooGroup (in Facebook, LinkedIn, Instagram) to keep in touch, and to learn more about Doo Group.